An excellent alternative to traditional videos
Whether you want to capture the attention of potential customers or explain complicated concepts.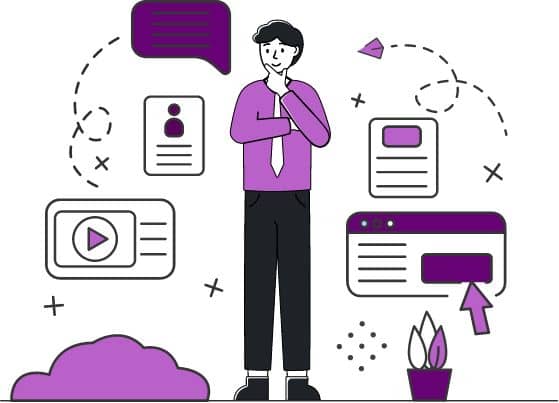 What are animated videos?
Animated videos are one of the most potent resources for content marketing today. By using an explanatory video, your business can convince potential customers, reduce bounce rates, promote brand awareness, and increase conversions.
What can animation videos be used for?
Our dedicated animators with significant experience in the field, use modern software to produce high-quality animated videos.
The shape of the video is determined by the desired use. We adjust the animated videos to the needs of the target group you plan to meet. AnimasjonsFamilien's skilled animators handle the video and the narrator's voice, music, sound effects and profile.
Explanatory animated videos facilitate meetings and lectures. We produce videos that engage and keep the focus of the audience for an extended period of time. These videos are divided into several parts as to facilitate being able to comment and receive questions along the way.
Social media is brilliant at reminding people of your presence. There is no doubt that it contributes to increased traffic and a golden vein for advertising. Animated videos capture attention and increase the conversion rate with increased traffic.
For websites, we recommend animation videos of a maximum of 2-3 minutes. Shorter length animation videos reduce the risk of losing viewers. Those who click on your website are interested in what is there.
What does AnimasjonsFamilien produce?
With us, you get flawless and cost-effective animated films. Our animated films effectively express what your company has to offer. We deliver engaging and entertaining communication.
It is estimated that the desire to buy increases by more than 70% after watching a film about a product or service. Animated films are therefore the tools of the future for communication and marketing.
At AnimasjonsFamilien, we have a desire to give more companies access
to animation videos. With the help of our dedicated animators, we always find a solution that suits your company!
You simply select the package
you want
Our screenwriter takes a short phone call with you and creates the script
Choosing a narrator's voice
You select a narrator's voice after we send you various suggestions.
The script is worded and recorded by the narrator's voice
Animation and illustration
Everything is set into motion:
characters, background, scenario, music
You will receive a draft of the video and can make the desired changes or adjustments until you are completely satisfied with the results.